Monday, February 14, 2011
MCMao Live is hands down the best mapping program that one can get for Minecraft (if you have a Mac, though). It has many of the same features as Cartographer and other mapping programs, such as night/day rendering, viewing texture packs, and layer slicing. This program is by far one of the most straightforward and simple mapping programs you can download and is very useful for someone who just simply wants an aerial view of their map!
Notes: Zooming out and rendering large maps will also demand more RAM and CPU, so watch out if you're trying to render your world on your GameBoy Pocket.
Link:
http://bit.ly/hX1PCR
Screenshot:
Posted by

Airous
at 9:32 PM
No comments:

Cartograph is a mapping program for Minecraft that allows you to view your entire world in various ways, including a cubic mode, a google maps-esque view or even a (if you like it) dirt view. This program seems to show the texture packs that you used in your world and not just show the default texture pack (if someone finds out otherwise, post a comment!) and you can choose to view your world in either a nighttime view with illumination effects from lava and torches, or you can view it in the regular daytime manner which will show full color and essentially the regular look of your world. This program would be ideal for showing off your metropolis-like city without having to take a scrapbook full of screenshots. I'm also assuming that this program isn't Mac compatible seeing as there is no link or reference to an OS X version, so I will also link an OS X map viewer shortly.
Notes
: Large maps may suck up a lot of CPU when being processed by this program, so if you've got a continent-sized map, don't try this on your 1998 Compaq laptop.
Link
:
http://cartograph.room101.no/Cartograph.zip
Screenshot
:
Posted by

Airous
at 9:03 PM
1 comment:

Sunday, February 13, 2011
Moderncraft is a texture pack for Minecraft with probably one of the best presentations and ideas I've seen in a texture pack so far. The premise of the texture pack is to change what certain blocks look like to make them more "modern". Just one example is how the creator changed glowstone into fluorescent light squares. His argument for this change is that glowstone is "something out of that film about the naked blue people". Good point, sir. This is a texture pack for anyone who is into creating modern office buildings, skyscrapers or cities.
Notes
: When downloading a texture pack, do not unzip it. Go into your Minecraft program, go under "Mods and Texture Packs", click on "Open texture pack folder" and drag the zip texture pack file into there.
Forum Link
: (you seriously have to read this thread, it is full of win.)
http://www.minecraftforum.net/viewtopic.php?f=1021&t=121354
Direct Link
:
http://dl.dropbox.com/u/17740750/moderncraftalpha3.zip
Screenshot:
Posted by

Airous
at 9:55 PM
8 comments:

INVedit is probably also one of the most essential tools for anyone who is dedicated to Minecraft. This is a seperate program which loads up the inventory from one of your worlds and shows you what items you have as well as a list of what items you can add to your inventory. INVedit can also manipulate the durability of your items, allowing you to restore your lovely diamond armor back to its original state! I do not reccomend this program for someone who just started playing Minecraft because I honestly believe that it can take the fun out of the survivability aspect of the game, especially when you're able to give yourself infinite obsidian, diamond weapons and TNT.
Notes: When you open the program, click on the Open button at the top, pick your world and once you've added/modified the items in your inventory, go to the Save button and save it to the world that you want. Remember to save your game right before you edit your inventory otherwise it won't actually work.
Link:
http://copy.mcft.net/mc/INVedit/INVedit.zip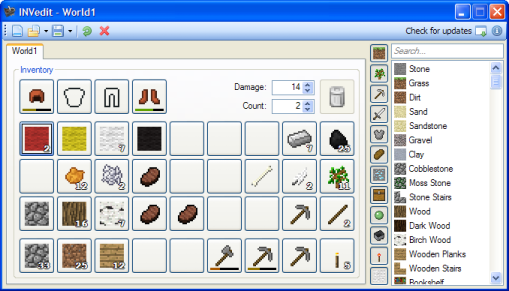 Screenshot:
Posted by

Airous
at 5:24 PM
11 comments:

MCEdit is essentially the only true 3-D editor for Minecraft as of right now. It is a separate program that loads up one of your worlds for you to edit. This program can either be extremely efficient and rewarding or one of the most frustrating things that you will ever use. I highly recommend starting small in terms of construction in order to give yourself time to adjust to the controls.
I use this program quite frequently seeing as it allows you to place your spawn point anywhere you want as well as the current player location. Words cannot describe how nice it is to be able to basically relocate to wherever you want on the map. One feature, however, that always bugged me was the insane controls and lack of the ability to copy objects from one world and past them into another. All in all, it's an essential program for anyone who takes Minecraft art or construction very seriously and plans on making building and other objects in a large scale.
Note: This program is quite CPU intensive and "weak" computers might struggle on larger maps. Also, this program is still in a pseudo-testing phase and may affect your minecraft.jar file. Always remember to keep a spare copy of it somewhere on your computer.
Screenshot:
Posted by

Airous
at 2:18 AM
10 comments:

Saturday, February 12, 2011
This is probably one of the most needed mods for people who are new to Minecraft and might not have an inventory editor, which can grant any item. This mod/addon places a minimap on your HUD and can be customized to include the tracking of minerals.
Note: this particular mod/addon seems to be in a testing phase, so remember to save a copy of your minecraft.jar file just in case something happens to your game!
Link:
http://www.minecraftam.com/
Screenshot (note the upper right hand corner):
Posted by

Airous
at 11:03 PM
4 comments:

I'm hoping that at least every week, I'll post a link (as well as screenshots) of some of the best looking or unique Minecraft texture packs as well as Minecraft addons or mods. First one would most definitely be 3D Dot Game Heroes, which is a texture pack that gives the terrain a clean and consistent pixelated theme similar to that of the Nintendo DS game 3D Dot Game Heroes.
Posted by

Airous
at 5:01 AM
1 comment:

Seeing as I don't have too many interesting things to say as of right now, I'll link a Minecraft picture. Works every time.
Posted by

Airous
at 4:49 AM
No comments: